Director of Media and Communications at EMIR Research, Jamari Mokhtar has emphasised that Minister of Science, Technology, and Innovation (MOSTI) Minister, Khairy Jamaluddin's move to...
WASHINGTON: Pertubuhan Bangsa Bangsa Bersatu (PBB) memberi amaran bahawa krisis makanan global yang meruncing mungkin berterusan selama beberapa tahun sekiranya tidak dikawal. PBB mengeluarkan amaran...
PHARMANIAGA Bhd is setting up a RM300 mil halal insulin and vaccine plant in Puchong, Selangor, which is expected to be fully completed by...
Pandemik COVID-19, pemanasan global dan terbaru, krisis Russia-Ukraine memberi kesan terhadap jaminan keselamatan makanan dunia. Ketidakstabilan situasi global ini pasti memberi kesan terhadap negara...
[td_block_social_counter custom_title="STAY CONNECTED" facebook="envato" twitter="envato" youtube="envato"]
When humans began mass usage of plastic in the 1940s, it was a miracle and a blessing. It brought...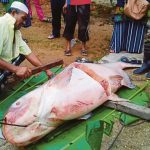 INVASIVE fish species are a major threat to our marine and inland waters and they undermine essential biodiversity. Species...
Malaysia's Medical Innovation Ventures (Mediven®) achieved 100% concordance for GenoAmp®, its COVID-19 PCR test kit in an international third party evaluation study...
An international group of researchers has developed a two-step method to more efficiently break down carbohydrates into single sugar components, an essential...