LATEST ARTICLES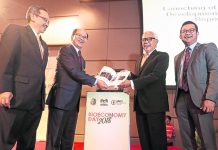 Malaysia's bio-based industry recorded an approved investment worth RM6.81 billion from 283 certified local biotechnology companies. Science, Technology and Innovation (Mosti) Minister Datuk Seri Wilfred...
The Budget 2018 speech by Datuk Seri Najib Tun Razak, Prime Minister and Finance Minister: Prospering an Inclusive Economy, Balancing Between Worldly and Hereafter, For...
The U.S. Department of Agriculture's (USDA) National Institute of Food and Agriculture (NIFA) today announced $9.6 million in available funding for projects to support...
Petronas Chemicals Group Bhd (PetChem) has approved a final investment decision for an Isononanol plant within the Pengerang Integrated Complex in Pengerang, Johor, for...
Celgene is licensing rights to develop its TORC1/2 inhibitor CC-223 in East and Southeast Asia to Antengene, and CRO Tigermed will help the latter...
A Singaporean biotechnology company working on experimental cancer drugs is listing in Taiwan, potentially opening the door for more foreign peers to go public...
Flooding has become a global concern, putting people at risk of starvation due to water drowning crops. Now, researchers are getting closer to identifying...
Plastic's cheapness, versatility and durability are undeniable, but in a burgeoning Ocean Internet of Things, plastic as we know it and the marine environment...
KUALA LUMPUR: Menjamin keselamatan makanan dan tenaga serta persediaan menghadapi perubahan iklim dengan menumpukan kepada peralihan yang adil dan saksama serta pembinaan kapasiti adalah...
The U.S.' "onshoring" initiative that kicked off during the Trump administration at the height of the COVID-19 pandemic has been carried forward by President...
"We might be one of the largest vegetable producers in Korea currently, supplying the major retailers and food companies. Our B2B business model of...
The goal of this project is to develop productive, cost-effective and sustainable warm-season perennial bioenergy feedstock production systems on marginal croplands across geographic locations...
MIDF Investment expects the global growth to moderate to 3% this year, as the low base effect wanes, the pace of growth this year...
Reactive oxygen species, or ROS, get a bad rap. The volatile byproducts of chemical reactions with oxygen, they're well-known markers of inflammation. Their build-up...
KUALA LUMPUR: Nestle SA is committed to investing more than one billion Swiss francs to make coffee farming for its Nescafe brand more sustainable. Parked...
"Without further investments in the bioeconomy, the net zero emission target will not be met." Data issued from the EU project Biomonitor point out...
KUALA LUMPUR (Sept 30): The early resumption of Parliament next Monday (Oct 3) will see all eyes fixed on the tabling of the Supply...
WASHINGTON: At-risk people who received a single dose of the monkeypox vaccine in U.S. efforts against the virus appeared to be significantly less likely...
BACHOK, Sept 29 (Bernama) -- Farm mechanisation and fertilisation package for sweet potato cultivation is capable of improving productivity, saving labour cost, increasing farm-scale crop yield and...
THe Malaysian oil palm industry must develop more downstream oleochemical products to address the global demographic and social changes, increasing wealth as well as...
KUALA LUMPUR (Sept 29): Malaysia's economy is on solid and stable footing despite global economic headwinds caused by geopolitical tensions and other external events. Finance...
BANGKOK, Sept 24 (Bernama) -- Malaysian Genomics Resource Centre Bhd (Malaysian Genomics), a leading genomics and biopharmaceutical specialist, is collaborating with its Thai partners to...
MELAKA, Sept 28 (Bernama) -- The Ministry of Agriculture and Food Industries (MAFI), through its Agricultural Irrigation And Drainage Division, has developed a National Benchmarking Index of...
KUALA LUMPUR, Sept 19 (Bernama) -- The National Energy Policy 2022-2040 launched today sends a clear signal to oil and gas, services and equipment (OGSE) companies...
KUALA LUMPUR: Bank Pembangunan Asia (ADB) merancang untuk menyediakan sekurang-kurangnya AS$14 bilion (RM64.28 bilion) antara 2022 dan 2025 dalam usaha mengurangkan krisis makanan yang...
Cardiovascular diseases (CVD) are the world's leading cause of death, with an average toll of 18.6 million lives lost every year. Although CVD are commonly...
Dutch plant-based ingredients company Fooditive is scaling up existing products and introducing the latest developments: LowSalt & Bee-free-Honey. "We feel like the next chapter of...
KUALA LUMPUR, Sept 28 (Bernama) -- Malaysia common its abutment for the International Atomic Energy Agency (IAEA) in analytic all-around nuclear technology issues, and...
Job redesign – the process of transforming jobs, reconfiguring tasks and redesigning responsibilities to enhance job roles and improve the organisation's output – has...
September 28, 2022 – A new vaccine for malaria developed by scientists at the University of Oxford was up to 80% effective at preventing disease in young children, according to...
SANDAKAN: Sabah will allocate at least RM50 million to fund the state's agricultural research. State Agriculture and Fisheries Minister Datuk Seri Dr Jeffrey Kitingan said...
In many circles, "biotechnology" is a four-letter word. Whether you're a Jurassic Park truther, an anti-Monsanto activist, or an anti-Vaxxer, the products of biotechnology—real, live dinosaurs,...
The digital economy is one of Malaysia's key economic pillars, currently contributing 22.6% to the country's gross domestic product (GDP). The number is set...
FRANKFURT (Sept 28): Europe's drug makers have warned they may stop making some cheap generic medicines because of surging electricity costs and are calling...
KUALA LUMPUR: Pemaju, pengilang dan pembekal bahan api biojisim tempatan, Bio Eneco Sdn Bhd (BioEneco) mengembangkan perniagaan ke Filipina menerusi penghantaran hampas kelapa sawit...
KEAKRABAN dan hubungan dua hala sedia ada Malaysia dalam pelbagai bidang dengan Emiriah Arab Bersatu (UAE) dipertingkatkan kepada perkongsian strategik. Ia membabitkan bidang ekonomi, pelaburan...
Vietnam may become a new tiger in Asia, according to Italy's La Repubblica daily after the World Bank raised the Southeast Asian country's growth...
Knowing which stem cell characteristics to optimize during the manufacturing process is among the biggest challenges still facing the cell therapy industry. That's according...
With its annual 800,000 tons of aquaculture production in the past three years, Türkiye has ranked first among European Union countries, according to data from the Agriculture and...
This is a significant moment in On's journey to move away from petroleum-based resources by creating a new foam material called CleanCloud™, made using...
PUTRAJAYA, Sept 19 — The holistic implementation of the National Low Carbon Aspiration 2040 plan is expected to expand gross domestic product growth (GDP)...
KUALA LUMPUR: Malaysian Genomics Resource Centre Bhd (MGRC) has signed a letter of intent (LOI) with the Faculty of Science and Natural Resources, Universiti...
SINGAPORE (Sept 20): Malaysia has a huge potential to supply feedstock to companies involved in producing Sustainable Aviation Fuel (SAF), said Transport Minister Datuk...
PUTRAJAYA: Malaysia has set a goal to raise the country's annual average gross domestic product (GDP) by RM13 billion with the implementation of the...
KUALA LUMPUR: The Agriculture and Food Industries Ministry has agreed in principle for state governments to maintain the gazette on Permanent Food Production Parks,...
KUALA LUMPUR (Sept 21): Apex Healthcare Bhd has proposed to team up with Shanghai Pharmaceuticals Holdings Co Ltd to market their branded pharmaceuticals, consumer...
Ministery of Agriculture and Food Industry is mulling on Gazetteing, Maintenance, and Modernization of the Permanent Food Production Park (TKPM) as well to look...
Researchers at DTU have developed a yoghurt bacterium, which can cleave lactose in a cost-effective and sustainable manner. This makes it possible to create...
Today, President Biden signed an Executive Order to launch a National Biotechnology and Biomanufacturing Initiative that will ensure we can make in the United...
Scientists have engineered mosquitoes that slow the growth of malaria-causing parasites in their gut, preventing transmission of the disease to humans. The genetic modification causes mosquitoes to...
CHICAGO and PURCHASE, N.Y., September 14, 2022 – ADM (NYSE:ADM), a global leader in sustainable agriculture and nutrition, and PepsiCo (NASDAQ: PEP) today announced a groundbreaking...
SINGAPORE: Malaysia hopes that oil palm biomass will be accepted as a feedstock for the production of sustainable aviation fuel (SAF) given the rising...
Feeling anxious at work? Here's how you can manage it according to the Advanced Psychiatry Associates.
GOING by the World Health Organisation (WHO), "essential medicines are those that satisfy the priority healthcare needs of the population. "They are selected with due...
It tastes like a tomato, smells like a tomato, and even looks (mostly) like a tomato. There's just one catch: It's purple. The USDA has...
In a greenhouse in Nottinghamshire, Barbara Wright is growing peat. Well, not peat exactly. Wright's company, BeadaMoss, is growing sphagnum moss – the main component...
The Hydrogen Bank will invest €3 billion to capitalise on the rapidly developing hydrogen economy, helping Europe to forge a future market for hydrogen...
The World Health Organization (WHO) Guideline Development Group recommended that patients with COVID-19 not receive the antibody drugs sotrovimab and casirivimab-imdevimab. The Group's recommendation replaces previous...
Two industrial design students were so concerned by the huge amounts of perfectly good fresh produce being wasted, they spent two years working on...
FRANKFURT: Choked by soaring energy and wood pulp costs, German toilet paper maker Hakle is turning to waste from coffee production to stay afloat...
A modest cut of just 1g in daily salt intake could ward off nearly nine million cases of heart disease and strokes and save...
New discoveries about embryonic blood stem cell creation made independently by biomedical engineers and medical researchers at the University of New South Wales (UNSW)...
Ecuador's relatively extensive shrimp farming techniques have ensured that their shrimp are robust enough to cope with the presence of pathogens that would be...
Companies that produce technologies to remove or reduce carbon emissions are "poised for strong continued growth," reaching an expected value of $1.4 trillion by...
KUALA LUMPUR, Sept 13 (Bernama) -- The country's biotechnology fraternity has lauded the government's launch of the National Biotechnology Policy 2.0 (DBN 2.0). The National...
KUALA LUMPUR: Syarikat teknologi 3D Gens Sdn Bhd (3D Gens) tampil menjadi syarikat tempatan pertama di Malaysia menghasilkan implan khusus pesakit (PSI) dengan menggunakan...
PUTRAJAYA (Sept 12): The Special Task Force on Jihad Against Inflation will review the aspects of the food supply chain approach and distribution, and...
Waste management is a universal issue affecting the daily health, productivity and cleanliness of communities. Poorly managed waste is contaminating the world's oceans, clogging drains...
KUALA LUMPUR - Dasar Bioteknologi Negara 2.0 (DBN 2.0) yang dilancarkan pada Isnin akan memberi tumpuan kepada tiga tunjang utama dalam memperkasakan sektor berkenaan...
KUALA LUMPUR: The status of vaccines being developed under the National Vaccine Development Roadmap (PPVN) is now at the stage of preclinical trials on...
KUALA LUMPUR (Sept 12): A total of 26 selected agricultural commodities recorded Self-Sufficiency Ratio (SSR) of over 100% in 2021, according to the Department of...
The U.S. bioeconomy is booming. Valued at nearly one trillion dollars and predicted to grow globally to over $30 trillion over the next two...
KUALA LUMPUR: The biotechnology sector will receive RM7mil in allocation to stimulate growth and development, says Datuk Seri Ismail Sabri Yaakob. The Prime Minister said...
PETALING JAYA, Sept 9 — Technological advancement for healthcare in Malaysia is set to flourish further with the selection of five hospitals as Health...
KUALA LUMPUR, Sept 12 — The Indian mackerel, also known locally as ikan kembung, is one of the most beloved fish of Malaysians. The stout, torpedo-shaped...
Japan's Nippon Paper Industries and Mitsui Chemicals are set to partner in the development of a new biocomposite with a high cellulose powder content....
THE Science, Technology and Innovation Ministry (Mosti) will continue to finance the green economy, electric vehicle (EV) industry and semiconductors, electronics and electrical start-up companies...
Luxembourg - A silicone rubber compound incorporating graphene nanotube concentrate and tailored for use in medical devices has been granted entry to the EU...
THE Ministry of Agriculture and Fisheries and its eight Departments/Agencies have worked hard over the past year to realise the achievement of Sabah Maju...
KUALA LUMPUR: Prolexus Bhd signed a memorandum of understanding (MoU) with SIRIM Bhd to promote cooperation on various projects, which include exploring research and...
KUALA LUMPUR: Gabungan Pusat Penyelidikan Bioteknologi Malaysia ditubuhkan bagi merealisasikan Dasar Bioteknologi Negara 2.0 (DBN 2.0). Mengumumkan perkara itu, Perdana Menteri, Datuk Seri Ismail Sabri...
The 20th century was the century of technology. The 21st century, meanwhile, has been heralded by geneticists Craig Venter, Ph.D., and Daniel Cohen, M.D., Ph.D.,...
Across the world of ESG investing, SDG impact, and climate change mitigation, a consistent omission has been bothering us at Agritecture: few events -...
Cost-effective carbon dioxide removal technologies play a key role in combating climate change. A team of researchers at the University of Maine in collaboration...
LONDON, Sept 12 — The International Monetary Fund is looking for ways to provide emergency funding to countries facing war-induced food price shocks and...
PARIS: A booster dose of a new malaria vaccine maintains a high level of protection against the disease, researchers said Thursday, expressing hopes the...
Advances in black tiger prawn (Penaeus monodon) genetics are leading to an impressive renaissance of the species in multiple regions, according to Robins McIntosh. Speaking...
PHNOM PENH (The Phnom Penh Post/Asia News Network): Phnom Penh governor Khuong Sreng said the capital welcomes Vietnamese companies keen to invest in the...
Ke Arah Masyarakat Bio-Inovasi (2022 - 2030)
KUALA TERENGGANU - The Ministry of Science, Technology and Innovation (MOSTI) hopes that the 2023 Budget scheduled to be tabled this Oct 7 will...
GEORGE TOWN: The Ministry of Finance (MoF) is committed to continue supporting the medical device sector as one of the main growth sectors at...
KEPALA BATAS: The Agriculture and Food Industries Ministry hopes for an increase in allocation in the 2023 Budget to continue its various initiatives to...
The forthcoming Asean-EU Commemorative Summit to be held in Brussels, Belgium this December is set to open doors for more engagement in bilateral environmental...
PUTRAJAYA (Sept 7): Malaysia opines that every nation-state should be brave to move towards creating a peaceful and harmonious multi-polar world that respects international...
KUCHING (Sept 5): Health Minister Khairy Jamaluddin is making primary healthcare a huge part of Malaysia's health reforms for the next 15 years. He said...
KUCHING, Sept 7 (Bernama) -- Sarawak's shrimp export is expected to reach RM1 billion by 2030, said Sarawak Modernisation of Agriculture and Regional Development Minister...
The events of the past two years have prompted a renewed focus on environmental, social, and governance (ESG) issues including a marked shift in...
NO sign of slowing down, instead, a study by Telenor Asia found that three in four expect mobile usage to increase and one third...
PUTRAJAYA: Any innovative health financing should ensure that there is sufficient investment into funding a "Health for All" approach, Health Minister Khairy Jamaluddin said...
Johor has potential to become the food basket of Malaysia and a food source for neighbouring countries through the national food security agenda. Johor agriculture,...
Neodymium may be a strange-sounding chemical element that you've never really heard of. Yet it is found in many of our everyday electronics, from...
KUALA LUMPUR: Malaysia has secured investments worth RM9.3 billion via the latest Trade and Investment Mission (TIM) to Japan led by Senior Minister of...
KUALA LUMPUR (Sept 8): Kenanga Research has maintained its "overweight" rating on the healthcare sector and said there was a slight sequential deterioration in...
A research team from Thailand has researched and replicated the vital extracts rich in antioxidants found in mangosteen peels that kill germs and halt...
German researchers at the PFI are looking into how existing plants could be integrated into a long-term energy storage strategy based on Power to...
KUALA LUMPUR: Ekonomi Malaysia bergerak ke arah nilai tambah yang lebih tinggi meskipun berdepan kesan negatif daripada perang perdagangan global dan juga pandemik COVID-19,...
The National University Health System (NUHS) has established the NUHS Centre for Healthy Longevity – a world's first integrated pre-clinical and clinical ageing research institute that is poised...
Disease and parasitism cause major welfare, environmental and economic concerns for global aquaculture. A broad team of scientists has been assembled to examine the...
AKARTA: Indonesian citizens need to play a role in reducing reliance on fuel oil and shift to alternative energy sources. State-Owned Enterprises (SOEs) Minister, Erick...
Everyone has a different definition of success. For some, it has to do with monetary gains, but for others, it's about recognition, respect, and...
KUALA LUMPUR: Malaysian Genomics Resource Centre Bhd (MGRC) is drawing up plans to set up a regional headquarters and establish new partnerships to tap...
The meat market is an environment of intense competition and the commercialisation requirements increases the need to preserve and guarantee the credibility of the...
(Sept 7): The European Union is poised to take steps to ease the mounting stress in energy markets caused by surging collateral requirements, as...
KUALA LUMPUR, Aug 30 (Bernama) -- Malaysia and the United Arab Emirates (UAE) are ready to further strengthen food security diplomacy cooperation between the...
While it is true that over the last thirty years hundreds of scientists have worked on developing mRNA vaccines and therapeutics, real breakthroughs in...
The pandemic dealt the food industry multiple blows, from grounded aircraft and border closures preventing produce from reaching markets to migrant labourers who are...
Many countries are now active with Sustainable Aviation Fuel —but how much where, and when, and what? The bulk of activity continues to come from...
Global fish stocks will not be able to recover to sustainable levels without strong actions to mitigate climate change, a new study has projected. Researchers...
In nature every species plays its role, from providing food to decomposing organic matter or capturing and storing energy – all with the ultimate...
SUNWAY CITY, 31 August 2022 – Sunway Medical Centre and United Imaging Healthcare (UIH) are collaborating to optimise molecular imaging protocols using artificial intelligence (AI)...
KUALA LUMPUR, Aug 30 (Bernama) -- The International Renewable Energy Agency (IRENA) continues to banal carefully with assorted stakeholders in the country to advance the Malaysia...
MENTERI Kesihatan, Khairi Jamaluddin dalam ucapannya di Persidangan Kesihatan Sedunia Sesi Ke-75 (WHA75) pada Mei lalu dilaporkan menyebut mengenai penerapan sains tingkah laku dalam...
GENEVA: Half of the world's healthcare facilities lack basic hygiene services, putting nearly four billion people at greater risk of infection, the United Nations...
JIKA Malaysia mahu memperkukuhkan sektor makanannya, ia perlu melaksanakan polisi sekuriti makanan bersama sistem makanan. Kedua-duanya saling berkait, iaitu sekuriti makanan tidak tercapai tanpa...
THE Malaysia Automotive, Robotics and IoT Institute (MARii) is hoping that the government can introduce more policies or incentives to drive the adoption of electric...
A wide range of groups including civil society, academic and health groups have been identified as stakeholders that are able to interact with the World Health...
KUALA LUMPUR: Malaysian Genomics Resource Centre Bhd (MGRC) signed a memorandum of understanding (MoU) to distribute biopharmaceutical and genomics products and services with Ajlan...
ALOR SETAR: Kedah menyasarkan peningkatan pengeluaran padi sehingga 65 peratus apabila penanaman padi lima kali dalam tempoh dua tahun dilaksanakan bermula hujung tahun ini. Menteri...
Vinyl is making a comeback, and a British company says it has created the world's first bioplastic record to help musicians sell their music in a...
In Malaysia today, specialty coffee shops are not an uncommon sight. Despite the historic popularity of the traditional kopitiam, things are starting to change....
The Food, Drug and Cosmetics (FD&C) Act's Medical Device Amendments put many of the same types of regulations that previously applied to drugs onto medical devices. A...
We are 7.6 billion today on the planet and are expected to increase to 8.6 billion in 2030 and 9.8 billion in 2050. To...
KUALA LUMPUR, Aug 30 (Bernama) -- The SureSawit oil approach berry trying out service, which can be acclimated as a apparatus for berry acceptance...
IT IS official that the Malaysian federal government Budget 2023 will be tabled on Oct 7, 2022, three weeks earlier than the normal convention...
Too much screen use has been linked to obesity and psychological problems. A newly reported study in fruit flies by researchers at Oregon State...
Researchers at the University of the Philippines Los Baños (UPLB) led by Dr. Lourdes D. Taylo are using innovative technologies to develop improved eggplant...
Researchers at Aalto University have developed a bio-based adhesive that can replace formaldehyde-containing adhesives in wood construction. The main raw material in the new...
KOTA KINABALU (Aug 24): Malaysia aims to be in the world's top 20 Global Startup companies ecosystem, through the Malaysian Startup Ecosystem Roadmap (Super)...
AN EFFICIENT healthcare system promotes economic growth and competitiveness in a country. Public and private healthcare systems must play significant roles in uplifting services and providing...
SERDANG: Microbial technologies such as biofertilisers, biostimulants, biopesticides and eco-friendly farming practices play a vital role in achieving the goals of regenerative agriculture.
A plastics recycling innovation that does more with less, presented today at the American Chemical Society fall meeting in Chicago, simultaneously increases conversion to...
What do corncobs and tomato peels have to do with electronics? They both can be used to salvage valuable rare earth elements, like neodymium,...
By 2050, the world's population is expected to increase to around 10 billion people. Food production will have to keep pace with this growth....
NEW DELHI: India's first indigenously developed RT-PCR kit for testing monkeypox was launched in the southern state of Andhra Pradesh, Xinhua reported, quoting local...
FRESH water is a valuable resource, and not just because people have access to less than 1% of the world's water supply on a daily...
Policy commitment and agricultural innovation are urgently needed for Malaysia to secure its food supply, especially in the face of an impending climate emergency...
Malaysia's public healthcare system has been ranked among the best in the region, according to some surveys. Thanks to government funding, public healthcare services...
SIMUNJAN: Perbadanan Kemajuan Perusahaan Kayu Sarawak (PUSAKA) meletak sasaran menghasilkan satu juta anak benih buluh sehingga 2027. Pengurus Besar PUSAKA, Datuk Hashim Bojet, berkata ia...
A research group led by Guoliang "Greg" Liu, an associate professor of chemistry in the College of Science, is hoping to advance the field of plastic...
KUALA LUMPUR: Malaysia and Singapore have substantively concluded a framework of cooperation in the digital economy and green economy. Senior Minister and International Trade and...
BANGKOK, Aug 23 — Malaysia is keen to learn more about cannabis from Thailand, especially on its evidence-based applications and cannabis-related pharmaceutical products for...
The Earth's temperature has been changing since time immemorial. The period of low temperatures in the polar regions coincided with the glacial era, which...
19 Aug 2022 --- Through multigene bioengineering, a new class of soybeans has been designed to absorb light more efficiently to boost yields by...
Kes seorang pakar perubatan hilang lebih RM10,000 daripada akaun bank seperti didedahkan media, beberapa hari lalu, adalah antara sekian banyak pelbagai jenis penipuan membabitkan hingga...
A previously developed suite of innovative thin and flexible optical devices has been demonstrated for the future diagnosis and treatment of a range of...
KOTA KINABALU: The halal industry in Sabah will continue to expand to the international level with the development of a digital platform, CoreHalal, to further...
Published at the end of 2021, the Federal Government's "Australia's Bioenergy Roadmap" report sets out the benefits of bioenergy, with key insights on its...
The Malaysian Employers Federation (MEF) has told the government to give clear direction and assistance to businesses as companies and industries play a critical...
The global generic drug market is expected to reach $531.8 billion in revenue by 2028, representing a compound annual growth rate of 5.2% from...
Agriculture is both a victim and a culprit of climate change. Growing and producing food, fiber, and biofuels generates about one-quarter of all human-caused...
BASF and footwear design house Maddy Plant have collaborated to explore the possibilities of BASF's innovative material solutions and use industry-leading technologies that enable...
THE administration's plan to formulate a law on sustainable food waste management marks a commendable step for Malaysia in its quest to address food security....
KUALA LUMPUR: Raising the government's spending on healthcare would enable the private and public sectors to collaborate on promoting health and preventing diseases. Association of...
At a hyper-controlled indoor farm in industrial South San Francisco, four robots named John, Paul, George and Ringo carefully transfer seedlings from barcoded trays...
KUALA LUMPUR, Aug 17 (Bernama) -- Malaysia has a sufficient amount of natural resources to build more gas turbine power plants to provide for...
TODAY'S world is very much influenced by science. Pick any issue that the world is currently facing, and science will be at the centre...
NEW YORK: British pharmaceutical company GSK has been awarded a contract to produce the world's first malaria vaccine so that millions more children will...
SERDANG: Agriculture industry players were told told to stop manufacturing, distributing and selling and using carbofuran and chlorpyrifos pesticides following the ban on their...
KUALA LUMPUR (Aug 17): Demand for plastic is set to surge over the coming decades, in the absence of significant intervention. In a report on...
KUALA LUMPUR (Aug 16): Malaysia is actively cooperating with nine countries on the development of the global halal sector, said the Ministry of International...
MANILA (Philipppine Daily Inquirer/Asia News Network): The long-held dream of having vital medicines that are affordable to most Filipinos may yet be realised following...
THE Gabungan Rakyat Sabah-Barisan Nasional (GRS-BN) State Government is focusing on downstream processing of seafood into high quality products, said Chief Minister Datuk Seri...
The Asia Pacific region, while being the most rapidly developing part of the world, also stands to suffer the impact of climate change the...
The fourth quarter will be "the challenge" for Malaysia's economy if global headwinds such as Russia's war on Ukraine and China's zero-Covid policy persist,...
SYDNEY: Syarikat farmaseutikal, Moderna bakal membina kemudahan menghasilkan vaksin menggunakan teknologi Messenger Asid Ribonukleik (mRNA) di Melbourne. Kemudahan yang pertama bagi hemisfera selatan itu bakal...
PARIS, Aug 17 — Hugelkultur is a horticultral method that allows a vegetable garden to be created on a mound of plant waste. There...
Driven by an increase in technology and outdated devices, their sustainability impacts, and the potential to regain usable metals and materials, the electronic waste...
An analysis of 57,000 foods reveals which have the best and worst environmental impacts. A team of researchers used an algorithm to estimate how much of...
Blood pressure monitoring technology has come a long way in the century since the first inflatable cuff was introduced. Newer models offer digital readings...
MALAYSIA'S population is projected to increase to more than 45 million by 2050 hence, rising food demand and consumption. Potential threats such as food insecurity pose...
Plastics play a major role in the "Green Deal" that aims to make Europe climate-neutral by 2050. EU initiatives for circular economy and bioeconomy...
In recent years, biotechnology has quickly assimilated into everyday life. The application of biotechnology is revolutionizing the domains of agriculture and the food business....
This month, researchers announced that they have been culturing a mouse embryo model made entirely out of embryonic stem cells and without the use...
Researchers at UCLA have created an edible particle that helps make lab-grown meat, known as cultured meat, with more natural muscle-like texture using a...
TENAGA Nasional Bhd (TNB) targets to invest around RM20 billion per year over the next 28 years as capital expenditure (capex) for initiatives to fast-track...
NEW YORK, Aug 7 — When natural elements are integrated into buildings, it's called biophilic design. For a few years now, greenery has been...
Terazosin, a drug currently prescribed for patients with high blood pressure or enlarged prostates, may hold therapeutic potential to slow the progression of motor...
KUALA LUMPUR, Aug 12 (Bernama) -- The fifth-generation network (5G) technology will be the driving force in data-driven smart agriculture in Malaysia that will...
KUALA LUMPUR, Aug 9 (Bernama) -- The government will launch the National Energy Policy 2021-2040 later this month to boost investment flows and advance Malaysia's sustainable...
KUALA LUMPUR: Malaysia provides various opportunities to multinational organisations given its strong economic fundamentals, including vibrant export activities and manufacturing capabilities. HSBC Malaysia multinationals global...
TEL AVIV, Aug 6 — Stem cell scientists say they have created "synthetic embryos" without using sperm, eggs or fertilisation for the first time,...
SERDANG, Aug 11 (Bernama) -- The agro-food sector provides wide business opportunities and prospects for young people, said Bank Pertanian Malaysia Bhd (Agrobank) chief development officer.
Banana peels aren't always destined for the trash or compost anymore. They're making their way onto people's plates, replacing pork in "pulled peel" sandwiches...
KUALA LUMPUR (Aug 9): The Ministry of Science, Technology and Innovation (MOSTI) on Tuesday (Aug 9) launched five National Technology Roadmaps to intensify Malaysia's...
In 2017, the US Food and Drug Administration (FDA) broke ground by approving the first drug with an embedded biosensor to track its use. Proteus Health's Abilify...
SERDANG, Aug 9 (Bernama) -- The 2022 Malaysian Agriculture, Horticulture and Agro Tourism Exhibition (MAHA) 2022, held at the Malaysia Agro Exposition Park Serdang...
CYBERJAYA, Aug 8 (Bernama) -- A pilot study conducted at the Cyberjaya Sewage Treatment Plant found that every 15 litres of raw sewage can produce...
MALAYSIA is expected to record stronger GDP growth in the second quarter of 2022 (2Q22), surpassing the 5% year-on-year (YoY) growth rate registered in...
The cells in your body are not all the same. Each of your organs has cells with very different functions. For example, liver cells are...
SERDANG (Aug 7): The Large-Scale SMART Paddy Field (SMART SBB) programme, first introduced in February last year, has successfully helped paddy farmers increase their...
KUALA LUMPUR: Going green and eco-friendly has been in the agenda of most tech companies, and Acer is one of them that is actively...
In 2021, the Chinese Academy of Agricultural Sciences (CAAS) unveiled a new method for making animal feed from CO and nitrogen with Beijing Shoulang...
Imagine the world without a Covid-19 vaccine — three years into the pandemic and we would still be fighting a losing battle with the...
Farmers are adopting precision agriculture, using data collected by GPS, satellite imagery, internet-connected sensors and other technologies to farm more efficiently. While these practices could...
PHNOM PENH – Minister of Environment Say Samal praised a Cambodian enterprise that makes straws from rice and vegetable matter rather than plastic, which he...
SERDANG, Aug 9 (Bernama) -- The Halal Economy Council (MEH) has launched the Halal Food Security Programme and Halal Farm Project Consortium which aimed...
A study by researchers at Brigham and Women's Hospital has demonstrated a proof-of-concept model that uses artificial intelligence (AI) to combine multiple types of...
Precision feeding is making inroads in all livestock species and, while most advances have been made so far in terrestrial farming of chicken, dairy...
More and more countries are seeking greener energy and solutions to meet stricter environmental standards, and biofuels are emerging as a go-to energy source. As demand...
The participation of more youths in agropreneurial ventures is expected to boost the nation's food supply and food security levels as well as reduce...
As we march into the third full year of the Covid-19 global pandemic, vaccine inequity looms as one of the greatest threats to global...
Several memoranda of understanding (MOU) involving investment value of more than RM4 billion will be signed during the Malaysian Agriculture, Horticulture and Agro Tourism Exhibition...
Malaysia has the potential to become the manufacturing hub for hydrogen fuel cells for the application in hydrogen mobility and uninterruptible power supply (UPS) systems,...
Tenaga Nasional Bhd (TNB) plans to build new, cleaner power plants at existing Kapar and old Paka sites as it fast tracks its green...
The agricultural sector has grown but was still not strong enough to revive the region's economy, according to the second annual Mekong Delta Economic...
US-based clinical technology company InterVenn Biosciences has established Malaysia as the regional hub for delivery of its medical healthcare services and products in the...
The United Nations Development Programme (UNDP) will continue to support the Government of Malaysia in accelerating technology adoption and innovation as laid out in the country's 12th Malaysia Plan...
People and businesses around the world used more power in 2021 than in the year before the pandemic, as lockdowns ended and energy demand...
Companies in the UK are at the forefront of bringing to the market carbon-neutral eggs, cutting out bought-in feed, which typically makes up more...
As Steve Jobs once said, "The biggest innovation in the 21st would be the intersection of biology and technology", it is no doubt that...
More than half (56%) of employers share that their organisation needs help to train employees with relevant skills, with 24% 'very open' and 69%...
Imagine taking heaps and heaps of earth-polluting, unusable plastic waste and actually transforming it into something constructive?. Plastic pollution is a proliferating and increasingly...
A strategy for developing agricultural mechanisation and agro-forestry-fishery processing has been approved, aiming to turn Vietnam into one of the top 10 agricultural processing...
A recent animal study shows that administering a genetically modified form of the SARS-CoV-2 spike proteinTrusted Source using a skin patch produced a potent neutralizing antibody...
Nilai import makanan Malaysia dijangka lebih tinggi tahun ini melepasi paras tertinggi yang pernah direkodkan tahun lalu iaitu sebanyak RM63 bilion setahun. Timbalan Menteri...
British start-up Clean Food Group is developing a bio-equivalent cultivated alternative to palm oil. FoodNavigator hears from CEO Alex Neves to find out how.
Companies are exploring the potential of genetic engineering to boost the nutritional content, productivity and climatic adaptability of so-called orphan crops in the continent.
Global biopharmaceutical company Zenas BioPharma announced it has received approval of its Investigational New Drug (IND) application from the National Medical Products Administration (NMPA)...
The Biotechnology Community of Interest released a study on the future of biotechnology in April, titled "Bio-Futures 2050: Defense Impacts and Opportunities." Produced at the...
As soon as Carolyn Armstrong started looking for plastic in her life, she realized it was absolutely everywhere. There are the plastic water bottles and...
A new technique to extract high-value bioactives such as Omega-3 fatty acids from single-cell algae oil has been described in a new paper authored...
For years, there has been animated public discussion led by experts, popular media and assorted stakeholders in the value chain on the need for...
Colgate, Lifebuoy, Dove and Sunsilk are the most chosen beauty and personal care brands in the world, but L'Oréal Paris is the 'biggest online...
KUALA LUMPUR: Malaysia will step up efforts to use materials derived from commodity by-product to reduce waste and generate more revenue. Prime Minister Datuk Seri...
WHILE speaking at a medical conference on hepatitis C in Penang some years ago, Tan Sri Dr Mohamed Ismail Merican, the former Director-General of...
KOTA TINGGI: A total of 27 out of 46 technology solutions to help curb the national food security issue are ready to be implemented...
KUALA LUMPUR: Kementerian Tenaga dan Sumber Asli (KeTSA) melancarkan Rancangan Fizikal Zon Pesisiran Pantai Negara-2 (RFZPPN-2) sebagai usaha memelihara dan memulihara ekosistem hutan paya...
MELAKA: Kementerian Perdagangan Antarabangsa dan Industri (MITI) yakin prestasi eksport produk halal negara kembali kukuh dengan sasaran nilai eksport mencecah RM40 bilion tahun ini. Timbalan...
"For all of these reasons, I have decided that the global monkeypox outbreak represents a public health emergency of international concern", the World Health Organization's Director, Tedros...
If sun protection is essential when packing your suitcase for the big vacation getaway, it's also wise to include moisturising products to combat the...
KUALA LUMPUR (July 26): China's state-owned companies will collaborate with Malaysian firms as well as the Malaysian Palm Oil Board to produce oil palm-based products involving RM6...
KUALA LUMPUR - The use of new technology will be able to help overcome labour issues in the agricommodity industry while increasing productivity, saving...
IHH Healthcare Bhd is looking to redefine itself as a healthcare provider instead of just a group of hospitals to keep up with ever-changing...
THE Selangor government has taken various steps to ensure the sustainability and stability of its food system is in line with the National Food...
As the race for minerals frantically speeds up, driven by the 'clean' and 'green' energy revolution, the minerals become harder and harder to retrieve,...
KUALA LUMPUR, July 26 ― Malaysia's economy is firmly on a recovery path supported by domestic activities and positive external demand. The economy is expected...
With decreasing margins on the horizon, pharma manufacturers have long shown an interest in specialty generics, which is only expected to rise in the...
Microalgae are increasingly being studied as an alternative to fishmeal in aquafeed production. Their net biomass productivity is higher than that of any other...
The Can Manufacturers Insitute (CMI) published the targets back in November last year. Even though the aluminum beverage can is already the most recycled...
SOUTH-EAST Asia region is well positioned to capitalise on the export economy, according to eBay's South-East Asia Small Online Business Trade Report. South-East Asia region has...
While humans evolved over a period of approximately 6 million years, breakthroughs in modern medicine as we know it today got going only in the 19th...
When Dong-Fang Deng and her students make feed for the fish they raise at UWM's School of Freshwater Sciences, they often use ground fishmeal—dried...
Hydrogen fuel cells hold a lot of promise as sustainable and eco-friendly energy sources to power transportation by land, air and sea. But traditional...
KUALA LUMPUR: Kementerian Sains, Teknologi dan Inovasi (MOSTI) sedia menjadi pemudah cara kepada usahawan pertanian untuk menggalakkan mereka mengadaptasi teknologi pertanian pintar pada peringkat...
LONDON, July 27 (Reuters) - The oldest patient yet has been cured of HIV after receiving a stem cell transplant for leukaemia, researchers reported...
Among natural products, curcumin is one of the busiest areas of scientific research, as everyone along the chain—suppliers, brands, retailers, consumers and others in...
Despite the challenges facing the automotive industry in 2021, it was a record year for zero and ultra-low emission vehicles. UK data shows that,...
MALAYSIA'S economy is cranking up after the pandemic. Land borders with Singapore have reopened, bringing in millions of visitors. Kuala Lumpur's notorious traffic jams are...
KUALA LUMPUR (July 19): Ageing is an inevitable part of life. As our parents grow older, they become sick, weak and frail. While elderly care...
SEMPORNA (July 18): The wide expanse of green, white, yellow and purple stretching out as far as the eyes can see is a sight...
KUALA LUMPUR (July 20): Malaysia's clean energy transition for the power sector will bring about robust investments and create more job opportunities. Energy and Natural Resources...
The Covid-19 pandemic, interruption in international supply chains, and the war in Ukraine have severely disrupted food, fuel, and fertiliser markets, which are interlinked....
After a period of stagnant sales largely because of increased competition and pricing pressures, the generic drug industry took another hit during the coronavirus...
NEW YORK, July 17 — According to a study by a major US consulting firm, the plant-based meat industry represents one of the most...
CARBON neutrality is becoming increasingly prevalent and Malaysia is at a crossroads in its climate change mitigation pathway, aiming to achieve carbon neutrality by 2050. A...
GENEVA, July 20 — Europe's current heatwave is breaking records, detrimentally impacting people's health, the economy, agricultural production, and tourism, and the trend is...
UCREST Bhd and Malaysian Genomics Resources Centre Bhd (MGRC) signed a collaborative agreement to integrate genomic testing services into the digital health platform, iMedic™️, elevating...
It's no secret that the planet is in danger. But, when that alarmingly-familiar idea comes to mind, many people probably think of deforestation, climate...
Environmental susceptibility is a growing concern that involves many actors in the building field. Special consideration must be given to the choice of materials...
Since the start of COVID-19 pandemic, Malaysia has seen an increased, steady demand for digital services. This inevitably resulted in more demand for data,...
BANGLADESH'S first homegrown COVID-19 vaccine has obtained clearance for human trials in Phase I, reported Xinhua.  The Bangavax vaccine, developed by local pharmaceutical company Globe...
KUALA LUMPUR: The demand for palm oil is expected to stay strong in 2022, especially in the food sector, with the reopening of economic...
KUALA LUMPUR (July 19): The government is now focusing on accelerating the transition from the concept of solid waste management in a linear economy...
Back in the early 1990s, I spent a lot of free time playing computer games, and one in particular that really caught my attention...
At some point in your life, you'll likely find yourself with a prescription from your doctor to fill. While it's important to keep track...
SUNGAI BESAR (July 15): The Malaysian Agricultural Research and Development Institute (MARDI) has developed a new variety of specialty rice called MARDIRiceAroma (MARIA) which...
Emerging contaminants, sometimes termed as contaminants of emerging concern (or CECs), are a group of chemicals which are present in the environment in initially...
India's bioeconomy is likely to touch USD 150 billion by 2025 and over USD 300 billion by 2030, a report said on Tuesday. The India BioEconomy Report...
Researchers at the Eli and Edythe Broad Center of Regenerative Medicine and Stem Cell Research at UCLA have developed a first-of-its-kind roadmap detailing how...
Bustanica has opened the doors to the world's largest hydroponic farm, backed by an investment of US$40m. The facility is the first vertical farm...
Active Energy Group has been awarded a patent by the Intellectual Property Corporation of Malaysia for the process for beneficiating and cleaning biomass. The renewable...
PETALING JAYA, 12 JULY 2022 – Malaysian Genomics Resource Centre Berhad ("Malaysian Genomics" or "the Group"; Bursa: MGRC, 0155), a leading genomics and biopharmaceutical specialist, announced today...
KUALA LUMPUR: Kementerian Kesihatan membenarkan penggunaan beberapa produk perubatan mengandungi kanabis atau  ganja dikenali sebagai cannabidiol (CBD) pada tahun depan.
GRACE Communications Foundation recently released new tools to help consumers, students, researchers, and policymakers understand the water footprint of food. The two tools—a quiz and...
A biodegradable debit card partially made of sea salt, a sea snail holding the key to biodegradable bullet-proof vests, Pirelli adding lignin as reinforcing...
MALAYSIAN owners of small and medium-sized enterprises (SMEs) are optimistic about their future economic and business growth prospects and have been hiring aggressively.  This is...
KUALA LUMPUR: Substantial pricing power is critical in helping healthcare players better weather through this high inflationary period, said Hong Leong Investment Bank Bhd...
KUALA LUMPUR (July 13): Prime Minister Datuk Seri Ismail Sabri Yaakob has welcomed the proposal by Saudi Arabia's Minister of Agriculture, Abdulrahman Abdulmohsen A...
Industry committee members at the European Parliament have voted to restrict soy oil as a feedstock for biofuel production. This action will place the crop...
The promotion of a bioeconomy is high on the agenda for many countries globally, as a major strategic driver for the transformation of biobased...
WASHINGTON: Moderna Inc (Moderna) memaklumkan ia sedang membangunkan dua jenis vaksin COVID-19 bagi menentang varian Omicron, satu bagi varian BA.1 dan satu lagi khusus...
THE Johor Agriculture Department hopes to sell more than RM2.2bil worth of durian this year with 32% of fruits coming from Johor. Its deputy director...
JAKARTA: Indonesia aims to implement a 35% palm oil mix in biodiesel, known as B35, by the end of the month to help absorb...
Selepas dunia dilanda pandemik COVID 19 sehingga menyukarkan kehidupan manusia, dunia sekali lagi menghadapi bencana ekonomi dengan kesan langsung kepada manusia ialah peningkatan harga...
A recent study published in the journal Science shows that mosaic-8, a nanoparticle-based vaccine candidate, could confer broad protection against SARS-CoV-2 variants of concern and other...
WE'VE been discussing food safety and security for decades. To address these troubling problems, the Agriculture and Food Industry Ministry committed to both financial resources and...
HELSINKI, July 13 — Is sand the material that could one day replace lithium in batteries for renewable energy technologies? Such is the idea...
THE start of the "Decade of Action" to achieve the United Nations' Sustainable Development Goals (UN SDGs) has also marked the start of an...
More than just inexpensive substitutes, generic drugs offer a glimpse into certain issues that pharmaceutical companies are facing now. While consumers depend on generics...
The 'Testing actions for sustainable farming' initiative (TSF) has been rolled out as the next step in Scotland's £51 million National Test Programme launched earlier this...
Scientists have developed a technique to remove phosphorus from wastewater at higher temperatures than is possible using existing techniques, by using bacteria to store...
KUALA LUMPUR: Duopharma Biotech Bhd has teamed up with US-based food-tech company, The Live Green Co., to explore the use of plant ingredients and technology to...
We all have seen the bait-and-switch trick: something is advertised at a low price, only to tell the customer that the item is out...
The agriculture sector grows and adds value. A calf bought at the market is nurtured into a milking cow that delivers liters of health...
Renewables are expected to account for 22 percent of U.S. electricity generation this year, increasing to 24 percent in 2023, according to the U.S....
SHAH ALAM,July 4 (Bernama) – The GeoTanaman and GeoTanih systems can help farmers to strengthen the national food chain, especially by making the food crop sub-sector more efficient and...
The genomics and biopharmaceutical specialist's wholly-owned subsidiary, MGRC Therapeutics (MGRCT), is collaborating with Rinani Genotec (Genotec) to offer sports-based genetic tests.
There is still argument over why we have failed to deliver food security in this country. With the current inflation, economists predict gloomy times ahead...
SPOT crude palm oil (CPO) price in Malaysia has fallen 30% to RM4,698/metric tonne (MT) since Indonesia removed its export ban on May 23...
KUALA LUMPUR (July 7): Demand for digital-related positions in the country increased 300% in 2021 compared to the previous year, of which 20% were...
JAKARTA - The Asean Health Ministers and Economic Ministers have adopted the jointly developed Asean Pharmaceutical Regulatory Policy (APRP) that provides a basis for...
KUALA LUMPUR: Even though premium Sarawak foodstuff is in high demand, locals are still hesitant to pursue a career in farming, Sarawak entrepreneurs say. Brendan...
KUALA LUMPUR, July 6 (Bernama) -- A green recovery from the COVID-19 pandemic in Southeast Asia has the potential to create US$172 billion (RM760. 2 billion)...
DOVER, July 4 — On a bright moonlit night, a team of scientists and volunteers head out to a protected beach along the Delaware...
While there has been – and will continue to be – a degree of consolidation and vertical integration in the shrimp supply chain, a large...
NEW DELHI: India imposed a ban on many single-use plastics on Friday in a bid to tackle waste choking rivers and poisoning wildlife, but...
SOUTH-EAST Asia's (SEA) green recovery from the Covid-19 pandemic has the potential to create US$172 billion (RM760 billion) investment opportunities and generate more than 30...
It's a tough time for biotech. A market correction is underway. Layoffs have beset the sector. And funding as well as M&A are down across the board. But...
COVID-19 vaccine acceptance increased 3.7% between 2020 and 2021, according to a new study. In a June 2021 survey of over 23,000 individuals across...
The construction of a 6,000-litre bioreactor in Singapore has commenced. From 2023, tens of thousands of kgs of cultivated chicken meat should be produced...
KANGAR, July 4 (Bernama) -- Universiti Malaysia Perlis (UniMAP) and E-Idaman Sdn Bhd (E-Idaman) today signed a memorandum of understanding (MoU) in assisting the government manage...
KUALA LUMPUR, July 4 (Bernama) -- Malaysia Digital (MD) is a new phase to take Malaysia to the next 25 years in driving the...
An "all-in-one" vaccine currently in development could protect people from future Covid-19 variants, as well as SARS, MERS and new strains of other coronaviruses...
The production of wild and farm-raised fish, shellfish and algae reached record levels in 2020, and future increases could be vital to fighting world...
It's a great time to have a pet these days with Gucci's new luxury line for pampered pooches using renewable raw materials and Manhatten...
KUALA LUMPUR: Bank Negara raised the overnight policy rate (OPR) by another 25 basis points (bps) to 2.25% following the conclusion of its latest...
Researchers from the Institute of Industrial Science at the University of Tokyo, Japan, have developed a new antibody-based compact skin patch that can quickly detect the...
From health-related expenses to greenhouse gas emissions, there are huge hidden costs associated with food in the U.S. These were uncovered by a recent Rockefeller...
Rocketry, aviation, and shipping are powered by energy-dense fossil fuels that are hard to replace. Researchers headed by a team at the Lawrence Berkeley...
HISTORY shows that Malaysia has never been short of policies related to agriculture or food. Ironically, the policy abundance has proven to be insufficient...
MULTINATIONAL medical equipment manufacturing company Smith+Nephew is supporting its orthopaedics business with the extension of its new high-technology manufacturing facility in Batu Kawan Industrial Park,...
KUALA LUMPUR: The Science, Technology and Innovation Ministry (Mosti) will promote the use of biofertilisers and various technologies to improve nutrient absorption and soil...
KUALA LUMPUR, June 28 — Tenaga Nasional Bhd (TNB) should continue to diversify its gas and coal sources in order to sustain its cash...
GOOD Meat announced this week that it has broken ground on its 30,000 square–foot production centre in Singapore. It will be the largest cultivated meat...
JUNE 29 ― Older persons are highly visible across Asia and the Pacific: they work in agricultural fields producing our food supplies, peddle their...
The loss of apoptotic control allows cancer cells to survive longer and gives more time for the accumulation of mutations which can increase invasiveness...
The country's largest power producer, Tenaga Nasional Berhad has an ambitious target of abandoning coal and fossil fuel from its list of materials used...
Rome – A robust and well-integrated global agrifood system can help all countries withstand unprecedented challenges, as evidenced during the COVID-19 pandemic in early 2020...
Last Friday, the World Health Organization (WHO) launched updated guidelines for the treatment of hepatitis C, calling for testing and treatment to be delivered in...
KUALA LUMPUR (June 28): Food Security Committees at the state and district levels will be set up to ensure the federal and state governments...
KUALA LUMPUR: PETRONAS memeterai Memorandum Persefahaman (MoU) dengan Mitsui & Co Ltd bagi kajian konsep dan kebolehlaksanaan ke atas rantaian nilai penyerapan dan penyimpanan...
PETALING JAYA: Malaysia's capital, Kuala Lumpur, has broken into the global top 30 best student cities to live in. According to the latest QS Best...
The first ever treatment for broken heart syndrome – also known as Takotsubo cardiomyopathy – is to be trialled by researchers at the University...
Paris/Rome - The global agrifood sector faces fundamental challenges over the coming decade, particularly the need to feed an ever-increasing population in a sustainable manner,...
This month I spoke with two global brand owner companies regarding their sustainable packaging efforts. One is a well-known cereal company. The other is...
PUTRAJAYA: Pemulihan ekonomi Malaysia kekal meyakinkan dengan trend yang lebih baik ditunjukkan oleh prestasi makroekonomi negara pada April 2022 di sebalik ketidaktentuan global. Ketua Perangkawan...
Adult cancer survivors are at a higher risk of heart and cardiovascular diseases than people in the general population, according to a new study. The...
"My favorite part of Iceland's renewable energy story is that it started small. It started with innovation, entrepreneurship," Halla Hrund Logadottir, the Director-General of Iceland's...
An international team of researchers conducting a long-term study has found that climate-friendly farming practices could lead to higher crop yields, reduced costs and...
KUALA LUMPUR: Malaysians will be facing greater food security issues as food items, even eating out, will be more expensive, FSMOne Malaysia. FSMOne research manager...
Ten years ago, Emmanuelle Charpentier and Jennifer Doudna published the study that paved the way for a new kind of genome editing: the suite...
Significant growth in aquaculture has driven global fisheries and aquaculture production to a record high as aquatic foods make an increasingly critical contribution to...
NEW YORK, June 28 ― Pineapple, vanilla and sugarcane may evoke an ingredient list for a delicious tropical cocktail but they also have something...
MALAYSIA'S productivity growth rebounded to 1.8% last year with RM90,697 per person compared to -5.3% at RM89,106 per person in 2020. International Trade and Industry Deputy...
Growing biopharmaceutical industry interest in data-driven production is impacting all parts of the supply chain. Which, when looked at from another perspective, means suppliers...
KUALA LUMPUR, June 24 (Bernama) -- FGV Holdings Bhd (FGV) remains committed to investing and expanding toward a broader range of sustainable and synergised agribusinesses, and...
PETALING JAYA: A "circular economy" on recycling should be the way forward for Malaysians as they use and consume products that minimises our use...
KUALA LUMPUR, June 23 (Bernama) -- The 'Make Halal Your Top Choice' campaign is hoped to increase the country's halal exports, besides attracting more...
Novartis has endorsed the 'Kigali Declaration' on neglected tropical diseases (NTDs) by announcing a five-year financial commitment of $250m. The Kigali Summit on Malaria and...
Photosynthesis has evolved in plants for millions of years to turn water, carbon dioxide, and the energy from sunlight into plant biomass and the...
It is becoming increasingly obvious that moving away from fossil fuels and avoiding the accumulation of plastics in the environment are key to addressing...
KUALA LUMPUR: Kerajaan bersetuju melaksanakan beberapa tindakan bagi meningkatkan daya tahan dan kesediaan negara menghadapi impak perubahan iklim, kata Datuk Seri Ismail Sabri Yaakob. Perdana...
KUALA LUMPUR (June 21): Health Minister Khairy Jamaluddin has stressed that efforts to strengthen the country's public health system must be made from now,...
A research team from the University of Birmingham has discovered a group of acylhydrazone-based polymers, which may be critical in encouraging bacteria to form growth-promoting ecosystems. The...
KUALA LUMPUR: Petronas Chemicals Group Bhd (PCG) has signed an agreement with its joint venture (JV) company, BASF Petronas Chemicals Sdn Bhd (BPC), to acquire the...
As the idea of a four-day work week continues to gain traction across Southeast Asia, new Qualtrics research reveals 60% of full-time employees in...
LONDON: Firma Bioteknologi Amerika Syarikat (AS), Moderna, akan membina pusat penyelidikan dan pembuatan baharu yang berpusat di Britain bagi membangunkan vaksin varian baharu COVID-19...
Kuala Kangsar: Teknologi terkini dalam sektor pertanian dilihat sebagai jalan terbaik memastikan kelangsungan bekalan makanan di negara ini terjamin melalui impak pengeluaran makanan yang...
PARIS, June 18 — Light years away from the tech used to develop more sustainable materials, a fibre used in textiles for centuries, hemp,...
KUALA LUMPUR (June 19): Angkatan Koperasi Kebangsaan Malaysia Bhd (Angkasa) has signed a memorandum of understanding (MoU) with the Indian Farmers Fertiliser Co-operative Limited...
In today's increasingly complex climate, emergency response plans (ERP) and business continuity management systems (BCM) are major plans organisations prepare to mitigate and overcome...
While a "waterfall of capital" might come into the aquaculture sector in the near future, there's a danger that it might not be sufficient...
The largest, highest quality analysis of data ever conducted reveals that genetically modified Bt corn has little impact on nontarget insects and other organisms,...
KUALA LUMPUR: The halal industry is gaining traction globally, with more people across the globe growing an appetite for halal-certified food and beverages. Consumers, therefore,...
The medical device market is diverse, fast-moving, and powered by dynamic customer needs and ongoing demand. Anticipated to reach $734.39 billion by 2027, the market is...
ALOR SETAR: The poultry industry is now in the process of returning production capacity to the maximum level to ensure the country does not...
Insect Engineers is officially opening its Insect School at the end of June. By being both a website and a practical testing site, Insect...
PUTRAJAYA –  Kementerian Pertanian dan Industri Makanan (MAFI) menjangkakan 100 syarikat pemula dan perusahaan kecil dan sederhana (PKS) sedia ada atau baharu dalam sektor...
KUALA LUMPUR (June 13): The Health Ministry (MOH) has taken several temporary solutions to overcome the medicine supply shortage at private clinics and hospitals,...
SEPANG: There is great potential for dragon fruits, just like the durian. Sepang Dragon Fruit Association chairman Lee Chin Heng said the fruit was meant...
Today's plastics deliver numerous benefits, without doubt. And they are a key material in innovations. But they also are one of the biggest challenges...
PUTRAJAYA, June 16 — Developing idle land belonging to individuals, agencies or state governments for agriculture is among the approaches to be taken by...
PETALING JAYA: Pharmaniaga Bhd bakal mengembangkan kehadirannya di negara lain terutama Afrika melalui pembekalan vaksin Sinovac COVID-19, sekali gus mampu mengulangi prestasi kewangan yang...
Tiga komponen utama dalam sekuriti makanan merangkumi pengeluaran yang cukup, penawaran stabil dan juga segmen penduduk terpencil turut mempunyai capaian kepada makanan. Interpretasi dan terjemahan...
KUALA LUMPUR: All oil palm growers, regardless of their plantation size, have been urged to switch from chemical fertilisers to optimum usage of organic...
KUALA LUMPUR: Kementerian Pertanian dan Industri Makanan (MAFI) bersedia menambah baik dan mengolah semula Pelan Tindakan membabitkan komoditi makanan bagi meningkatkan tahap sara diri...
Biosimilars are medications that are developed to be highly similar to original branded reference products, providing similar safety and efficacy in treatment. They have become...
PUTRAJAYA (June 14): The National Recovery Council (MPN) is of the view that there is an urgent need to strengthen the feed industry so...
ALGAE biomass is an energy-rich feedstock that can help support our planet in a sustainable way. Realising its full potential can only be achieved through collaboration,...
KUALA LUMPUR, June 13 — Logos are instant brand messages brands send to their consumers. They build brand identity and display the company's personality. When done...
A team of scientists from Children's Medical Research Institute (CMRI) in Sydney have developed a new way to improve targeting of specific organs and...
STOCKHOLM, June 10 — Many of the fruits and vegetables we eat contain pesticide residue. To better detect the presence of these substances in...
IN light of escalating fertiliser prices which can make up 60% of the total palm oil production, the Ministry of Plantation Industries and Commodities...
THE Science, Technology and Innovation Ministry (MOSTI) through Cradle Fund Sdn Bhd has launched the MYStartup Accelerator programme which offers an array of world-class...
The experts will meet on June 23 to assess whether the continuing outbreak represents a Public Health Emergency of International Concern, the highest level...
KUALA LUMPUR: Mesyuarat Kabinet hari ini bersetuju dengan pelaksanaan tiga lagi intervensi tambahan bagi menangani isu bekalan, sekali gus merancakkan aktiviti pengeluaran makanan domestik...
Researchers at the University of Queensland (Brisbane, Australia) have discovered the common Zophobas morio 'superworm' can eat through polystyrene, thanks to a bacterial enzyme...
KUALA LUMPUR: Despite being fortified by sound economic fundamentals and the economy is on its way to a recovery after turning the corner against the pandemic, Malaysia...
WASHINGTON, June 16 — A panel of experts convened by the US Food and Drug Administration unanimously recommended Covid-19 vaccines Wednesday for children under...
The colour of light is a vital exogenous parameter and is now considered an important management tool in poultry production. Different colours have different...
3D printed bioslides from adidas are set to launch soon as are a Grateful Dead themed collection of biosneakers and sandals. Absolut is trialing...
KUALA LUMPUR, June 13 — The World Bank on Monday maintained Malaysia's economic growth forecast this year at 5.5 per cent. The growth is mainly...
CoffeeTrusted Source contains many beneficial compounds for health, including caffeine, diterpenes, and chlorogenic acid. StudiesTrusted Source show that habitual coffee consumption is linked to the prevention of...
The U.S. is the top producer of hybrid striped bass, and a Texas A&M AgriLife team is working to improve the fishes' health, growth and productivity...
The value of the global oleochemicals market is forecast to grow at a CAGR of 6.5% from US$27.3M in 2021 to US$39.8M in 2027,...
ADDIS ABABA, June 9 (Bernama) -- Acute food insecurity is likely to deteriorate further in 20 countries or situations, including Ethiopia, from June to September...
BONE Health Alliance Malaysia (BHAM) is supporting the government's call for action towards effective tobacco control measures as it is critical to improving bone...
FGV Agri Services Sdn Bhd has launched Butik S, the first-generation rodenticide for usage in the integration of cage owls under the Paddy Production Incentive...
Malaysia Airlines operated its first passenger flight using Neste MY Sustainable Aviation Fuel™ (SAF) on flight MH603 from Kuala Lumpur to Singapore in conjunction...
THE Malaysian economy no longer requires the support of monetary policy, according to Bank Negara Malaysia (BNM) deputy governor Abdul Rasheed Ghaffour. He noted that...
Vital dengue vaccine offers over four years' protection following successful clinical trial Takeda has announced that its dengue vaccine, TAK-003, prevented 84% of hospitalised cases...
Rutgers researchers have discovered that nitrogen-fixing bacteria hidden within leaf cells could lead to more efficient and sustainable methods of crop cultivation. The study, recently...
Researchers have developed a new joint system draws energy from the sun and biomass can provide 100 percent of the heating needed for a one-story house during the...
KUALA LUMPUR, June 7 (Bernama) -- The 12th Malaysia Plan (12MP) aims to shift the country's conventional linear economy model, which has been proven...
IN late 2018, it was reported that badminton champion Datuk Lee Chong Wei had to undergo treatment for early-stage nose cancer. The former World No....
THAILAND will soon allow people to grow an unlimited number of cannabis plants at home as it is scheduled to be removed from its...
PARIS, June 7 — Toyota and its subsidiary Woven Planet have developed a prototype of a removable hydrogen cartridge, intended to power the vehicles...
KUALA LUMPUR: Langkah kerajaan memansuhkan permit import (AP) makanan baru-baru ini dilihat mampu menjadi penyelesaian bagi membolehkan pasaran beroperasi secara bebas dalam usaha memperkukuh...
Consolidation means the total number working in global farming has never been smaller. Farm business is hard work, poorly paid and seasonal. When contrasted...
KUALA LUMPUR: Pemuliharaan hutan ruang yang semakin berkembang untuk tujuan pelaburan ke arah pengurangan pelepasan karbon di Asia Tenggara (SEA), khususnya di Indonesia dan...
When someone gets an infection, most people think it's the immune system kicking into gear when they feel some of the body's natural defenses...
Inflation is expected to pick up in 2022 as the effects of ongoing global supply chain disruptions are transmitted to Malaysia's consumer prices says...
KUALA LUMPUR: Public awareness about asthma and how it affects patients are key to effective control of the chronic lung disorder. Experts said without a...
The remarks were made during an interview with Al-Ekhbarya, an Arabic news and current affairs TV channel. According to reporting in The Saudi Gazette, Al-Shaikhi...
THE tobacco industry has known for decades the problem of plastic filters in its cigarettes and packaging but has never owned up to the...
JUNE 7 — Immediate-term measures by the government to overcome chicken supply and price issues are not sustainable and are a significant disruption to...
A decade has passed since the landmark paper by Jennifer Doudna and Emmanuelle Charpentier describing their Nobel Prize–winning research appeared in Science. The research, of...
KUALA LUMPUR: The United Kingdom, one of the nations at the forefront of reversing environmental decline and tackling climate change, has inked a new...
LONDON, June 5 (Reuters) - AstraZeneca (AZN.L) and Daiichi Sankyo's (4568.T) Enhertu extended survival by more than six months in patients with a form of advanced breast cancer...
KUALA LUMPUR (June 2): Rising food prices and diminishing supplies as a result of the Russia-Ukraine war will likely last through 2024. In a report...
KUALA LUMPUR: Malaysia bersetuju meningkatkan sumbangan negara sebanyak 40 peratus kepada Pertubuhan Kesihatan Sedunia (WHO) menjelang 2029. Menteri Kesihatan, Khairy Jamaluddin, berkata WHO penting dalam...
Polemik mengenai krisis makanan sebagai cabaran negara dibahaskan ahli politik, ahli akademik, ilmuwan agama dan masyarakat umum. Ia menimbulkan kerisauan berterusan dan menuntut pemimpin...
KUALA LUMPUR: Malaysia Airlines Bhd will operate the first passenger flight using sustainable aviation fuel (SAF) between Kuala Lumpur and Singapore on June 5...
PUTRAJAYA: The role and contribution of Malaysia's halal economy should be further tapped so that it can make a greater contribution towards the nation's...
JOHOR BARU: Johor wants to attract more medical-related manufacturing companies to set up their operations in the state. Mentri Besar Datuk Onn Hafiz Ghazi said...
SERBADinamik Sdn Bhd has strengthened its presence in the Middle East by signing a memorandum of agreement (MoA) with the United Arab Emirates. According to...
SYDNEY, May 27 (Bernama) -- Researchers from Australia's Curtin University have analysed seawater samples from across the globe and discovered that even the most remote...
PETALING JAYA: Malaysia should tap into the circular bioeconomy as it has an "abundant feedstock" of up to 100 million tonnes of biomass, the...
Scientists have discovered through a new study what eventually persuaded people to get vaccinated against COVID-19 after previously saying they were "hesitant" to get...
PETALING JAYA: Malaysia has the right climate, fertile soil and ample rain to plant crops that meet the nation's needs and ensure food security instead...
As EV battery demand continues to rise, manufacturers are turning to recycling innovation to meet lithium supply shortages. For electric vehicles (EVs) to successfully become...
BUSINESSES in Malaysia are expected to remain positive for the second quarter of this year (2Q22) despite a slower pace. Department of Statistics Malaysia (DoSM) chief...
Researchers discover that measuring the level of anti-Mullerian hormone in premenopausal women could predict bone loss, and lead to early intervention of osteoporosis. The transition...
KUALA LUMPUR, May 30 — The Ministry of Agriculture and Food Industries (MAFI) today assured that food supply in the country has not reached...
I have often wondered why there is so much opposition to plastic, even though it is by far the best material for a very...
PUTRAJAYA: Kawal selia pelbagai sektor ekonomi halal dalam negara secara lebih komprehensif boleh disatukan melalui penubuhan Suruhanjaya Patuh Syariah, kata Datuk Seri Ismail Sabri...
New research has uncovered how genetic changes that accumulate slowly in blood stem cells throughout life are likely to be responsible for the dramatic...
Approximately 85% of the cases of lameness are due to foot health problems such as sole ulcer, digital dermatitis, foot rot, deep infection, and...
The popularity of pet foods soared during the pandemic. Human-pet relationships improved during the pandemic owing to the lockdowns imposed in major parts of...
PETALING JAYA, May 28 — Halal Development Corporation Bhd (HDC) expects Malaysia's halal exports this year to surpass the RM42 billion pre-pandemic level. Chief executive...
The medical device landscape is changing fast in part due to new technology including IoT hardware. These modifications are creating opportunities and challenges for...
John Innes Centre (JIC) scientists used CRISPR-Cas9 to shut off a molecule in tomato plants and increase the concentration of provitamin D3 in the fruits and...
There are thousands of kinds of bacteria – microscopic, single-celled organisms that are among the earliest known life forms on earth and live in...
KUALA LUMPUR: Malaysia is setting up a Centre for the Fourth Industrial Revolution (C4IR), an independent centre within the World Economic Forum (WEF), to...
There are certain situations where maintaining distance to reduce the spread of COVID-19 is difficult, such as when a doctor takes blood or when...
With increasing prices of daily necessities locally and globally, the era of cheap food may soon become history. Such price hikes are inevitable due to...
KUALA LUMPUR (May 25): FGV Holdings Bhd (FGV) expects to produce 75,000 tonnes of animal feed this year, up from 40,000 tonnes produced last...
For many companies, Industry 4.0 is still the "next thing" they should focus on—or the trend they are currently adopting their strategy to. It...
Granulab, a 70%-owned subsidiary of KPower has today launched "ProsteomaxTM", Malaysia's halal-certified synthetic bone cement. The launch was officiated by the Deputy Minister of Science,...
KUANTAN, May 25 (Bernama) -- Various initiatives will be implemented to promote freshwater fish to the community for its protein source, which includes producing...
MELBOURNE, May 22 — The Australian city of Melbourne has decided to create new green spaces, in addition to protecting its existing parks and...
By By Dr Muhammed Basheer Jasser, Senior Lecturer and Program Leader of BSc (Hons) Information Technology, Department of Computing and Information Systems, School of...
THE Samsung group plans to raise spending by more than 30% to 450 trillion won (about US$360 billion) over the half-decade to 2026 to shore...
The future of R&D for the controlled environment agriculture industry has arrived — and it's in space. Space farming has been a topic of interest...
Oyster shells are more commonly found on the bottom of our plates than on the soles of our sneakers. However, that's exactly where French...
KUALA LUMPUR: Malaysia telah melaksanakan lima inisiatif intervensi bagi mengatasi penurunan kebolehpasaran graduan sepanjang tempoh pandemik COVID-19. Kementerian Pengajian Tinggi (KPT) dalam satu kenyataan, hari...
Immune response and the lymphatic system are central to cardiac repair after a heart attack, according to a study from Ann & Robert H....
Drones spraying pesticide, sensors taking soil readings, sprinklers that squirt fertiliser at the touch of a button—a Malaysian plantation is using high-tech methods to...
The German government's environment ministry is working on a proposal to phase out the use of biofuels produced from food and feed crops by...
THERE may be more reasons for Malaysians seeking greener pastures elsewhere than just the money such as safety, the standard of living as well as...
Life sciences is a sector with longstanding clustering tendencies! Indeed, the benefits of physical proximity, collaboration and knowledge-sharing are widely recognised, both for collections...
In early February, residents of Hong Kong—an Asian financial hub home to 7.4 million people—faced a shortage of fresh food. Shelves stocking vegetables and...
Have you ever stood next to a large pile of biowaste or steaming manure wondering how much heat is contained in there? And if...
TOKYO: Malaysian Prime Minister Datuk Seri Ismail Sabri Yaakob proposed to the International Conference on the Future of Asia here Thursday three key points...
BERITA antarabangsa sejak beberapa hari lalu melaporkan wabak cacar monyet kini tersebar di beberapa kawasan di Kanada, Amerika Syarikat (AS), beberapa negara Eropah termasuk United Kingdom...
California-based Kore has developed a new way to produce hydrogen from biogas. It claims the new method could potentially provide hydrogen for less than...
Researchers in the Department of Food Science and Human Nutrition at Iowa State University have discovered an innovative approach to fight bacteria and their antimicrobial resistance...
WASHINGTON: Pertubuhan Bangsa Bangsa Bersatu (PBB) memberi amaran bahawa krisis makanan global yang meruncing mungkin berterusan selama beberapa tahun sekiranya tidak dikawal. PBB mengeluarkan amaran...
PHARMANIAGA Bhd is setting up a RM300 mil halal insulin and vaccine plant in Puchong, Selangor, which is expected to be fully completed by...
Pandemik COVID-19, pemanasan global dan terbaru, krisis Russia-Ukraine memberi kesan terhadap jaminan keselamatan makanan dunia. Ketidakstabilan situasi global ini pasti memberi kesan terhadap negara...
Super GT is the first championship in Asia to run on 100% biofuel. With the decision to use the fully sustainable fuel Renewablaze GTA R100...
MALAYSIA must examine the growth strategies and models of China, Japan, and South Korea to accelerate its own economic development, said former prime minister...
GENEVA: A Covid-19 vaccine effective against multiple variants is possible before the end of 2022, the head of US pharmaceutical giant Pfizer said Wednesday. Chairman...
Perstorp Group, a leading sustainability-driven global specialty chemicals company, today said that it is to be acquired by PETRONAS Chemicals Group Berhad (PCG). PCG...
KUALA LUMPUR (May 17): Who would have thought that food waste that we consider to be worthless can actually help generate a source of...
The State of the Climate 2021 indicates that extreme weather – the day-to-day face of climate change – wreaked a heavy toll of human lives,...
Eli Lilly's Verzenios (abemaciclib) has received a marketing authorisation from the Medicines and Healthcare products Regulatory Agency (MHRA), in combination with endocrine therapy for...
The Chinese agriculture ministry announced plans to allow more genetically modified maize varieties developed by local companies. According to ISAAA, China was the seventh-largest producer of biotech crops globally in...
KUALA LUMPUR (May 17): Malaysia saved 132.43 gigawatt hours (GWh) of electricity amounting to RM48.34 million as at Dec 31, 2021 via the Energy Management Gold Standard...
DIGITAL Transformation (DX) among businesses during the COVID-19 outbreak was a watershed moment, as it required businesses to relocate to online platforms in order...
KUALA LUMPUR: Duopharma Biotech Bhd's net profit rose 15 per cent to RM20.29 million in the first quarter (Q1) ended March 31, 2022, from...
SHAH ALAM: The country's first sustainable dog food with the use of black soldier fly larvae (BSFL) as an alternative protein source will be...
ALL state governments have agreed to partake in the "No Plastic Bag" campaign where a minimum of 20 sen will be charged for the use...
WASHINGTON: The World Bank on May 18 announced actions it plans to take as part of a comprehensive, global response to the ongoing food...
Two Rutgers University engineers specializing in the process of making drugs derived from living organisms have created an analytical tool they expect will accelerate...
Agriculture and farming are two of the oldest and most essential professions the world over. Humans have relied on agriculture as a primary food source...
Can you imagine running a computer chip on algae – yes, algae – for more than six months? Apparently, that's now possible thanks to...
KUALA LUMPUR, May 16 — For more than two years, Malaysians have adjusted to changes in our everyday lives and adopted what the government...
JOHOR BAHRU: Lebih tiga juta telur nyamuk aedes mengandungi bakteria Berwolbachia akan dilepaskan secara berperingkat untuk membiak, sekali gus mengurangkan 40 peratus kes demam...
A new article published in Reviews in Aquaculture and co-authored by scientists from CATRIN, the Faculty of Fisheries and Water Conservation at the University of South Bohemia in Vodňany...
PARIS, May 18 — Barley and carob. These are the ingredients used in a brand new kind of chocolate whose manufacturing process relies on...
From developing therapeutic vaccines to biotechnology breeding, China has mapped out measures to develop bioeconomy in the 14th Five-Year Plan (2021-2125) with rollout of...
KOTA BARU, May 8 — Universiti Malaysia Kelantan (UMK) through the Faculty of Bioengineering and Technology (FBKT) is developing a pilot project to commercialise...
By 2050, food production needs to increase by 60 percent to feed a world population of 9.3 billion. With climate change and its consequent impact...
Malaysia is considering slowing its implementation of its biodiesel mandate and cutting its export tax on palm oil to help meet global demand amid...
Expo 2020 Dubai was timely and opportune for Malaysia to promote its palm oil industry and highlight the importance of the agri-commodity to the...
PUTRAJAYA: An additional funding of RM15 million under the National Covid-19 Immunisation Programme has been approved for the third phase of the SARS-CoV-2 genomic...
PADANG BESAR - Kementerian Pertanian dan Industri Makanan (MAFI) menyasarkan pengurangan import makanan ternakan sebanyak 30 peratus menjelang tahun 2030 menerusi Projek Pembangunan Industri...
Devices such as mobile phones are ubiquitous these days, be it among adults or children. Walk into a family restaurant, and chances are you...
THE continuous rise in food price inflation not only affects the purchasing power and income of the increasingly squeezed M40 and perennially struggling B40, which...
BEIJING - Syarikat farmaseutikal China, Sinopharm memaklumkan vaksin tidak aktif varian Omicron telah mendapat kelulusan bagi menjalani ujian klinikal oleh Pentadbiran Produk Perubatan China.
Farming needs a reboot. According to a 2019 IPCC report on climate change and land, agriculture is to blame for about 8.5% of all greenhouse...
Sarawak Premier Abang Johari Openg has described the state as a rising tiger in the renewable energy arena and is opening its frontiers to...
KUALA LUMPUR (May 11): The upcoming ASEAN-US Special Summit provides a great opportunity for Malaysia to push forward its economic agenda through the Regional...
May 9 (Reuters) - COVID-19 vaccine makers are shifting gears and planning for a smaller, more competitive booster shot market after delivering as many...
SEREMBAN: The Agriculture and Food Industries Ministry (MAFI) announced that it has simplified the application procedure to expedite subsidy payments to chicken breeders. Its minister,...
KUALA LUMPUR - Setiap kali sambutan perayaan, negara ini merekodkan peningkatan sisa domestik yang ketara, dan pada sambutan Aidilfitri kali ini kebimbangan pengendali sisa...
The continuous rise in food price inflation not only affects the purchasing power and income of the increasingly squeezed M40 and perennially struggling B40...
We aggregated thousands of records from GlobalData's proprietary themes, jobs, deals and patents databases to identify the most active companies in the area of...
Amid the often-distressing news about climate change, some good news: Existing strategies could mitigate livestock methane emissions by enough to help the sector limit...
Renewables are currently expected to account for 22 percent of U.S. electricity generation this year and 23 percent in 2023, according to the U.S....
China's top economic regulator on Tuesday unveiled a new plan to spur the bioeconomy during the 14th Five-Year Plan period (2021-25), in a bid...
A receptor that was first identified as necessary for insulin action, that also is located on the neural stem cells found deep in the...
India is facing a water and food crisis, exacerbated by extreme climate cycles such as the current heatwave during which temperatures well above 40℃ have been...
The annual water consumption of the textile industries (including cotton farming) is nearly 93 billion m3 which is almost 4% of the global freshwater withdrawal.  A...
Sarawak has doubled its efforts to achieve the target of 60 per cent of students enrolling in the Science, Technology, Engineering and Mathematics (STEM)...
Syarikat farmaseutikal China yang membangunkan vaksin khusus bagi menangani COVID-19 varian Omicron menggunakan teknologi mRNA sudah mendapat kelulusan ujian klinikal di Emiriah Arab Bersatu...
Across the globe, peatlands are under threat and their destruction is contributing to climate change. Damaged peatlands are responsible for roughly five per cent of...
Amid the COVID-19 pandemic, the amount of clinical waste produced in 2020 grew by 18.1 per cent to 39,900 tonnes from 33,800 tonnes in...
Personal care is going green at a breakneck pace. While most industries, including the chemical industry, are targeting net-zero greenhouse gas emissions by 2050,...
MD-Farm offers vertical farming systems alongside a platform including their own technology such as know-how services for customers. Potential customers that will use MD-Farm's...
A new study by Juniper Research has found hearables shipments will exceed 200 million units by 2024, up from 165 million in 2022; representing total...
Penduduk dunia yang berdepan isu kelaparan meningkat kepada 193 juta tahun lalu ketika konflik, perubahan iklim dan krisis ekonomi merosakkan kehidupan manusia, kata Pertubuhan...
Sian Cuffy-Young wants to change how we see waste. In her home country of Trinidad and Tobago, she educates people on how to best...
It's still a global reality that antibiotics of many important classes in human medicine are still given to livestock animals not only for treating...
In the future, public health experts may recommend getting an annual COVID-19 vaccine the same way a flu vaccine is recommended every fall, according to a new viewpoint...
It is encouraging that science is getting more attention from the nation's leaders lately. New developmental policies that emerge are mostly centred around science. The...
In France, the next City of Lights might just be illuminated by bioluminescent bacteria for an eco-friendly solution. And a new packaging alternative made...
Let's say you want to save the planet, and you have a lot of cash to throw around. Be on the lookout for snake...
What do gunpowder, penicillin and Teflon all have in common? They were inventions that took the world by storm, but they were all created...
ASEAN has many structural advantages that offer investment opportunities for both growth and value investors. As the post COVID recovery gains momentum in the...
Glove manufacturers could switch their focus to tap the non-medical industry players as their clients to make the industry lucrative and continue to thrive rather than banking their focus on the...
Kerajaan Kanada mengumumkan satu pelaburan bagi menyokong penambahan eksport gandum, ketika permintaan produk gandum Kanada meningkat di pasaran global. Menteri Pertanian dan Agro Makanan Kanada,...
Women, those who are obese and those on mechanical ventilation are all more likely to suffer from the effects long-term COVID-19. New research has revealed...
From "care delivery manager" to "diversity and inclusion manager", job titles have evolved indeed. Traditionally, the above job titles were more commonly scoped towards the...
A bank card resides in the wallets of almost every Malaysian and has become part and parcel of daily life. Current bank cards are chip-based,...
KUALA LUMPUR – Malaysia is facing a new serious threat in malaria infection, which is an increase in zoonotic malaria infections, says Health Minister Khairy...
KOTA KINABALU: The first agriculture production collection centre (APCC) run by the Rural Development Corporation (KPD) will open its doors next month. The collection centre...
PARIS, April 27 — The number of coal-fired power plants in the pipeline worldwide declined in 2021, according to research released yesterday, but the...
Cisco's latest Broadband Index reveals that Malaysian workers value access to the internet more than ever before, as hybrid working continues to be the...
KUALA LUMPUR: The Malaysian Medical Association (MMA) said the relaxation of the standard operating procedures (SOP), including lifting mask mandates for outdoors, was another...
APRIL 24 — Over 70 farms in Lim Chu Kang in the north of Singapore are about to have their land leases terminated. The facilities...
WE celebrated our 52nd anniversary of Earth Day last Friday on April 22. It should serve as a reminder to continue our efforts in...
PUTRAJAYA: Petunjuk bagi tiga bulan pertama 2022 menunjukkan prospek ekonomi Malaysia yang positif dalam masa terdekat dengan mobiliti yang tinggi dijangka berlaku susulan pembukaan...
Researchers from Queen Mary University of London and Barts Health NHS Trust are trialling an investigational medication for high blood pressure. It marks the first...
Population growth, more food production, loss of arable land, water resources, and CO2 emission concerns are all on the forefront of food producers. Given the...
An enzyme variant created by engineers and scientists at The University of Texas at Austin can break down environment-throttling plastics that typically take centuries...
Digital adoption has accelerated dramatically over the past two years, mainly due to nationwide lockdowns to curb the spread of the COVID-19 virus. For example,...
So called "smart" vaccine manufacturing technologies, i.e., systems that gather and exchange process data, have been vital in the battle against COVID-19. The availability...
The consumption of avocado has been on the rise in the latest trend, especially in healthy eating diet plans. When it comes to salad...
A team of scientists are developing innovative techniques that utilise photosynthesis to harness solar energy, creating new methods of energy storage. As part of their Horizon...
LETTERS: By 2050, urban areas are expected to house two-thirds of the global population of approximately 10 billion people. While cities are hubs of economic growth...
A team of Yale-led researchers can now quantify the factors causing changes in the DNA that contribute most to cancer growth in tumors of...
PARIS, April 24 — Climate change could lead to more small-bodied bees but fewer bumblebees, according to research published Wednesday, warning of potential "cascading"...
From sports enthusiasts going more biobased in their gear like Wilson tennis rackets and Saucony sneakers made from pineapple leather to groovy biobased LP...
KOTA TINGGI, April 24 — The Ministry of Science, Technology and Innovation (Mosti) plans to introduce drone industry and technology in the Science, Technology,...
AHMEDABAD: With greater awareness of alternatives to branded medicines and more willingness to try them out, sales of generic medicine in Gujarat are estimated...
Xishuangbanna is one of the most suitable areas for banana cultivation in China. Heavy application of chemical fertilizers, pesticides, and irrigation in banana plantations...
One way to overcome the chemical industry's dependence on fossil fuels is to replace oil and gas with renewable carbon within the existing structures...
GURUN: The RM400 million investment pledge by United Arab Emirates-based Hotpack Packaging Industries LLC will boost Malaysia's position as the regional biodegradable manufacturing hub...
Tissue regeneration technology has been a widely discussed topic for the past 3 decades. Its framework provides us with concepts that enable the regrowth...
THE Permanent Food Production Park (PFPP) programme is one of the initiatives that the Ministry of Modernisation of Agriculture and Regional Development Sarawak (Manred)...
KUALA LUMPUR: The World Economic Forum has recognised and awarded Western Digital's factory at Batu Kawan, Penang, as a Sustainability Lighthouse. By leveraging its vertically...
Enza Zaden Asia Sdn Bhd, a Netherland based leading vegetable breeding company has finally completed its first South East Asia Research and Development (R&D)...
Overnight, Chris Callewaert acquired body odor. The bioengineer, then a student, had led a largely odorless life. But several years ago, in the space...
World Animal Vaccination Day, observed yesterday, celebrates the contribution of vaccines to the health and welfare of animals across the world. Dawn Howard, chief executive,...
In 2021, the EU's natural gas import dependency rate was 83%. This is 1 percentage point (pp) less than 2020 (84%). This small decrease in import dependency was significantly...
THE Regional Comprehensive Economic Partnership (RCEP) agreement entered into force for Malaysia on March 18. It is a treaty between 15 countries: Australia, Brunei, Cambodia,...
After a bustling, record-setting 2020 for private biotechs raising cash, the bar heading into 2021 was exceptionally high. Turns out, private investors elected to...
The inclusion of a high-flavonoid corn, developed by a Penn State maize geneticist, in the diet of broiler chickens reduced the incidence and severity...
KOTA KINABALU (April 20): Universiti Malaysia Sabah (UMS) has produced a prototype of river cleaning machine to resolve worrying river pollution. The innovation, known as...
BOAO, Hainan, April 20 (Xinhua) -- The economic growth of Asia will reach 4.8 percent in 2022, an expert said at the Boao Forum...
Scientists say they have identified a mechanism that explains how fine air pollution particles might cause lung cancer, according to a study ("Air pollution...
GLOBAL players are welcome to diversify into value-added activities in the agriculture and food processing industries in Malaysia, the Malaysian Investment Development Authority (Mida)...
As a University of Arizona professor of astronomy and planetary sciences who studies planets orbiting other stars, Daniel Apai spends much of his time...
Datuk Hajah Zuraida Kamaruddin, Minister of Plantation Industries and Commodities Malaysia, has concluded her Economic and Agricommodities Promotion Mission to Egypt and Qatar from...
FLORIDA, April 14 ― According to an American study, cardamom, a plant of Indian origin, could fight against triple negative breast cancer cells. This...
PAITAN, April 17 — The Agriculture and Food Industries Ministry (Mafi) will improve the existing agrofood policy to ensure a sustainable supply of food...
KUALA LUMPUR: Ahead of Earth Day, Dell Technologies announced the launch of its new products and sustainable materials to help address the growing issues...
Ada negara membuat 'naratif palsu' mengenai pandemik sudah berakhir kerana kadar vaksinasi tinggi dan tahap kematian akibat COVID-19 rendah, tetapi realiti menunjukkan sebaliknya. Pertubuhan Kesihatan...
GENEVA: A Covid-19 vaccine effective against multiple variants is possible before the end of 2022, the head of US pharmaceutical giant Pfizer said Wednesday. Chairman...
A new project led by the University of Cambridge aims to help make mussels into a seafood staple for UK consumers. The university is working alongside...
Between 20-30% of all food produced worldwide is lost at various stages of the supply chain before it is ever consumed, said Dr. Patrick...
KUALA LUMPUR (April 14): Hong Leong Investment Bank (HLIB) Research said Malaysia, which is facing an energy trilemma of energy security, energy accessibility and...
The World Health Organization (WHO) on Tuesday, welcomed the setting up of a new Heads of State and Government Group to get the world back on track...
KUALA LUMPUR: THE rising prices of chicken, driven by the increase in cost of chicken feed, warrants creative solutions to the problems and relying...
Several cities in Europe are embracing green energy solutions to make life for residents more pleasant and sustainable – these innovative approaches serve as a model...
PUTRAJAYA (April 14): The rollout of the fifth-generation (5G) network will transform the digital-based economy in the country, said Communications and Multimedia Minister Tan...
European medical cannabis company Cantourage has received two British government licenses that authorise the company to import medical cannabis to the UK. Additionally, the company...
Currently, the global agricultural industry is facing challenges with deteriorating soil health. In order to combat this, Australian scientists are exploring the manufacture of...
In October 2016, students from the Dutch universities TU/e (Eindhoven), TU Delft, Avans (Breda, 's-Hertogenbosch, and Tilburg), and the Eindhoven's vocational colleges built a...
KUALA LUMPUR, April 8 (Bernama) -- Currently there are some ongoing projects between Uzbekistan and its Malaysian partners in the field of agriculture, food industry,...
KUALA LUMPUR, April 9 (Bernama) -The National Science Council (NSC) which met yesterday discussed the National Nanotechnology and Products Roadmap 2021-2025 which should be...
KUALA LUMPUR – Malaysia's rainforests are endowed with a multitude of herbs that are believed to have medicinal and nutritional values. Popular herbs such as rosary...
THE implementation of biodiesel for the domestic sector is still worth it, according to FGV Holdings Bhd as the group could channel Malaysia's crude...
ACCORDING to recent findings of the 2022 Hays Asia Salary guide, 62% of employers in Malaysia said that they were confident about hiring the...
GENEVA: Gergasi farmaseutikal Amerika Syarikat (AS), Pfizer memaklumkan vaksin COVID-19 yang berkesan terhadap pelbagai varian boleh dihasilkan sebelum penghujung 2022. Pengerusinya, Albert Bourla berkata, firma...
The Singapore Institute of Technology (SIT) and Agrocorp International have launched a research programme to further studies on plant-based food alternatives. This programme will leverage science and...
Renewables are expected to account for 22 percent of U.S. electricity production this year, increasing to 23 percent next year, according to the U.S....
Middle East companies focusing on ASEAN are positive about business growth in the region – and a significant 78 per cent view Malaysia as...
A "broken" investment model means a new antibiotic may not reach the market for another decade, according to the head of a $1 billion...
KUALA LUMPUR (April 12): Commercial farming of guarana (Paullinia cupana) in Malaysia is not allowed by the Agriculture Department of the Ministry of Agriculture and...
Because beauty is overwhelmingly addressed from the outside in, brands with 2021 nutricosmetic launches—such as those meeting consumer desire for nutricosmetic powders—boost the growing...
It's not halfway through the year and it is already time to think about 2023. With a six-month (or more) lead time, this is...
Biological products are the fastest-growing class of pharmaceuticals in the United States. Biosimilar and interchangeable products may offer additional treatment options and potentially lower...
Contrary to popular belief, the world is not running out of land for farming and we are not running out of food, says a...
Last week, players teed off in The Masters tournament in Augusta, Georgia, and Scottie Scheffler emerged as champion because in golf, lowest score wins....
KUANTAN: Fifty out of 63 graduates or 79 per cent who participated in the Bio-Agrotech and Bio-Pharmaceutical Career and Entrepreneurship (BeST 2.0) apprenticeship programme...
It's fair to say that the entire world has become more fluent in the language of biology in the last few years. In 2019,...
JASIN: The Ministry of Agriculture and Food Industries (MAFI) is targeting about 80,000 hectares nationwide to be cultivated with grain corn by 2033 to...
OSLO, April 4 — Extracting carbon dioxide from the atmosphere by planting forests and developing controversial high-tech industries will be essential to meet global...
KUALA LUMPUR: Kira-kira 88 peratus pekerja di Malaysia menyifatkan pandemik menjadi pendorong untuk meningkatkan keseimbangan antara tuntutan kerja dan kehidupan, demikian mengikut hasil kaji...
People who are vaccinated and have had a booster shot against COVID-19 recover from symptoms from the Omicron variant more than three days earlier...
Farming may be among the oldest professions in the world; but if it is to have any future, it will increasingly need to rely...
Innovation often leads to new products, but new methods can be just as groundbreaking. It was the chance to help develop those methods that...
KUALA LUMPUR: Malaysian Genomics Resource Centre Bhd (MGRC) mendapat kontrak pengawasan COVID-19 daripada Institut Penyelidikan Perubatan (IMR), unit penyelidikan bioperubatan Kementerian Kesihatan Malaysia (KKM).
PETALING JAYA, April 4 (Bernama) -- Prudential Malaysia, AstraZeneca and Pantai Premier Pathology are collaborating to provide cancer patients access to genomic testing for...
Bananas are the second most common tropical fruit consumed globally, with approximately 119.83 million tons produced worldwide, comprising 16% of world fruit production. But...
The bioeconomy is up and roaring with lion burgers and tiger tacos, but don't worry, no animals are actually killed for the exotic meat....
KUCHING, April 1 (Bernama) -- A special committee will be set up involving the Federal and Sarawak governments to cooperate on further strengthening the country's food security. Agriculture...
High-throughput (HTP) combinatorial methodologies—which include microarrays, lab-on-a-chip systems, microfluidics, parallel pipetting, or robotic-assisted methodologies—are essential to accelerate synthetic biochemical technologies and discovery platforms. They...
IN LINE WITH the growing digitalisation trend driving Agriculture 4.0, Malaysia's leading Agarwood plantation company, DAdvance Agarwood Solutions Sdn Bhd (DAAS) has signed a Memorandum...
Unlike polyethylene terephthalate (PET) plastic bottles which are recycled without difficulty, plastic waste comprising litter such as contaminated food packaging, styrofoam and plastic bags,...
KUALA LUMPUR – Malaysia's economy is expected grow 5.5 per cent this year, driven by recovery in domestic demand and expansion in exports, according to...